The next four are unusual. The first two are foureés, plated ancient counterfeits. (2.0g and 1.3g.) The third example, with its odd style, is perhaps an ancient imitation. The final example is not only crude, but a foureé as well!
Another example of an imitation of the Parion gorgon / bull hemidrachm can be seen in Numismatik Lanz München auction 109 lot 58. Another foureé can be seen on the Ancient Greek and Roman Coins FAQ Greek fourré page. Readers are invited to send notices of other foureés and imitations, I'd like to look for die matches.

Sear suggests a value of £85 for this issue. These examples cost $50-90.
Recording an attribution for the classical issue:
Some folks are not interested in the symbol, and just pick the first example in their preferred reference. Others collect and attribute by symbol. Below is a list of symbols seen in Sear, BMC, SNG VA, SNG Copenhagen, SNG France Mysia, and Hunterian:
no symbol (Sear 3919, Dewing 2204, BMC 14-16, SNG VA 1319, SNG France 1356-1357)
amphora (SNG France 1377)
anchor unpublished. photo by request.
bunch of grapes (Sear 3921, BMC 24-5, SNG VA 1324)
bee (or fly l) (BMC 15.95 17, SNG Cop 265, SNG France 1360-1361, Hunterian 1)
bell ABOVE (BMC 15.95 18, SNG France 1359)
bucranium "ox skull" (BMC 19, SNG VA 7423, SNG France 1380)
club (Sear 3920, BMC 20, SNG Cop 259, SNG France 1362-1363)
crayfish (SNG France 1388)
crescent (BMC 21, SNG France 1382)
cricket (?) (SNG France 1391)
dolphin ABOVE (BMC 22)
ear of corn/wheat (BMC 23, SNG VA 1320, SNG Cop 260, SNG France 1373-1376)
figure / Athena ABOVE, one/two symbols below (SNG Cop 267, SNG France 1367)
harpa (BMC 26)
ivy leaf (BMC 27, SNG VA 7426)
kerykeion "caduceus" (SNG VA 1321)
laurel branch (BMC 28-29, SNG Cop 266, SNG France 1364-1365, Huntarian 2)
monogram (SNG France 1390)
oenochoe/oinochoe "wine cup" (Dewing 2203, SNG Cop 257)
patera "ceremonial saucer" (Dewing 2201, BMC 31-33, SNG VA 7424, SNG France 1384-1386)
patera ABOVE (BMC 30, SNG Cop 261, SNG France 1387, Huntarian 4)
Φ "Phi" (SNG France 1389)
scallop shell (BMC 34, SNG VA 7425)
sickle (SNG Cop 258, SNG France 1378-1379)
star (Sear 3922, BMC 15.96-7, 35-7, SNG VA 1322, SNG Cop 263-264, Huntarian 3, SNG France 1368 and 1370 and 1372)
star ABOVE (SNG Cop 262)
torch (SNG France 1383)
wreath (Dewing 2202, BMC 38-39, SNG France 1381)
Regarding the obverse monogram
The monogram is present on
Hunterian 2. Reverse=laurel branch (spring with leaves and fruit.)
Weber 5141 (Same obv die as Hunterian 2, monogram off flan), wreath reverse.
Wheaton College 232, wreath reverse
the example here, same dies as Wheaton College
Dewing 2202, wreath reverse. (This coin previously published as Baldwin Facing Heads on Greek Coins 351.)

Alex G. Malloy auction LXV lot 113. (Same dies (?) as Dewing. Previously offered as Alex G. Malloy auction LXI lot 125).
Ancient Auction House eBay item 1350023970 (closed May 10 '02, same dies as Dewing).
Ancient Auction House eBay item 1339350198 (closed March 20 '02)
Ancient Auction House eBay item 1355372344 (closed Jun 3 '02)
That's five obverse dies. All examples except Hunterian have wreath reverse, and Weber 5141 pairs the Hunterian die with a wreath. I theorize that as more monogrammed coins are found the wreath will be the most common reverse.
On all examples exception the Ancient Auction House March 20 the gorgon has teeth.
Bronze issues
The first example is similar in style and type to the hemidrachms. It is much larger (22mm diameter). Examples have been published in SNG France (1402) and SNV von Aulock (1327).
The second example is oval shaped, 18x22mm, weighing 6.97g. The gorgon appears more humanistic and the tongue does not protrude. The reverse (eagle) is obscured by an unrecognized countermark.
Parion also struck an AE13 with owl reverse, and perhaps a smaller bronze with bull reverse, although on that coin the facing head is described as 'Athena'. The eagle type is scarce and the others rare.
Probably a forgery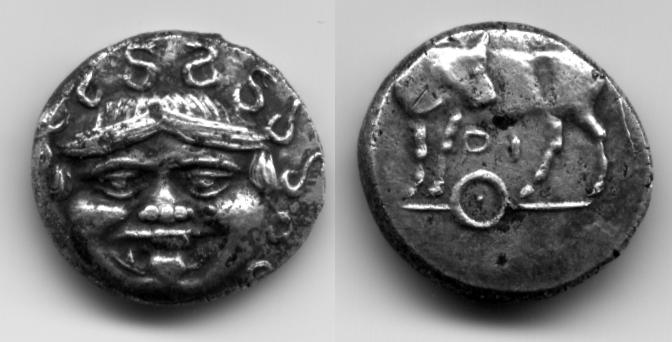 This coin has the proper weight and type of a Parion hemidrachm but the style is wrong. The gorgon is in the style of later
Apollonia Pontika
drachms, for example
Dewing 1275
. The surrounding snakes radiate outward from the gorgoneion rather than circling it in Parion fashion.
It's possible this is an ancient imitation but more likely this is a forger's joke.
This coin first surfaced in 2001 and was offered on eBay in May 2002 first as a legitimate Apollonia drachm then withdrawn and changed to possible forgery.
Readers knowing of die links to this coin as asked to contact the author.
Definately a forgery
Cast fakes of archaic Parion silver units have been identified.
The www.ancients.info gallery is reporting several counterfeit parion hemidrachms. [Example 1] [Example 2]
Refs and credits
Thanks to the following dealers for selling these coins: Ancient Auction House, Antiquity Bureau, Mediterranean Coins, Barry and Darling, WCNC, Classical Cash, Herakles Numismatics, Alex G. Malloy, Colosseum Coin Exchange, and Ed Waddell
For more information on the Gorgon in Greek art and myth I recommend the book Medusa: Solving the Mystery of the Gorgon by Stephen R. Wilk.

For more example coins see the Parion thumbnail page at WildWinds.com
Also see the Historia Numorum entry for Parium.

Numismatic references:
Greek coins and their values. Vol. II. Asia and North Africa by David Sear. 1979.
The Arthur S. Dewing collection of Greek coins, edited by Leo Mildenberg and Silvia Hurter. 1985.
Catalogue of Greek Coins in the Hunterian Collection, University of Glasgow, George McDonald. 1899-1905.
Wheaton College Collection of Greek and Roman Coins; J. David Bishop, R. Ross Holloway. 1981.
Sylloge Nummorum Graecorum, Deutschland, Sammlung der Universitätsbibliothek Leipzig. 1993.
Keltische Numismatik 2 Robert Forrer.

---
Contact the author at
esnible@acm.org
Back up to coins page
.